Click on the image above to find out everything that happened when we celebrated 4 years of being open for our community!!!
Team MMV decided to go out with the biggest bang for the finale of our
birthday event
thanks to bam77. This character is sure to be thought of as legendary and we thank him for releasing it as part of our forum community for you all. Download and discuss this all here:
Surtur by bam77 released to end MMV's Birthday Event!
Voting has now opened for what you think is your favorite WIP that showed progress at MMV in the month of May. The preview image is hyperlinked to the poll. Posting a reply for your selections will give them bonus points
Pretty cool Marvel Mugen news for you all today in the form of a WIP Reveal of Blob by Arkady and logansam showing off another video of War Machine. Click their respective icons to find out more
While we like RAHLONNIR's version, this is MMV's official update of Hercules by andersontavars thanks to iron-angelus and borewood2013. Find out more on all this and the release at:
Hercules by andersontavars, iron-angelus, and borewood2013 released
Here is a new video for you to check out of:
The Lizard by regisc video preview
One of Varia the Hunter's masterpiece characters gets a major update into an all-new version with this Extra Twisted Version of Sweet Tooth.
Diddy Kong is close to being in your Mugen thanks to Varia the Hunter. Watch the preview at:
Diddy Kong by Varia video preview
Another unique gift courtesy of NinjaBrl in the surprise release of X-Men Villain, Bonebreaker
Day 24 of the MMV Birthday event gives you the surprise release of Judge Dredd by alejandro iaccarino and a WIP Reveal in the form of Marvel villain Mandarin from Shining. Their respective images will lead you to more discussion
Thank you to Gladiacloud and Beximus for the release of Capcom's Saki which we will promote here at MMV
Long-time hoped to be Mugenized Marvel character Blade is realized in video and WIP form for you to talk about at:
Blade by MMV WIP w/video preview
Fabry Taz gave one final preview of the Mortal Kombat Legacy project to discuss
Arkady surprised us again with an unexpected but major release in: Exodus of Marvel Comics. Find out more about all of this here:
Exodus by Arkady released
The word of the day today is surprises with alejandro iaccarino also giving MMV a gift in the form of the Tick who you can download after clicking the preview
chuchoryu is back again to celebrate the MMV birthday by majorly updating El Feurte. He also provided a new link for Abel. Download and discuss here:
El Fuerte majorly updated by chuchoryi + Abel re-released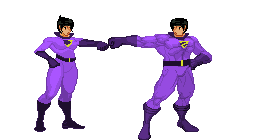 DC Comis is the focus of your Mugen News today on MMV with the WIP Reveal of the Wonder Twins, a video preview of Superman Beyond, and Nightwing getting an update. Click the respective image for more information
This time it is brucewayne74 getting into the act with a super surprise gift as part of MMV's birthday with the release of the King of the Jungle, Tarzan, who does some of the coolest things with animals in Mugen
Another majorly updated DC character for you today to celebrate MMV's birthday courtesy of Doom and Shiruzato is located at:
Gentleman Ghost v2.0 by Doom & Shiruzato released
As part of the Legacy of Superman full game project, this has happened:
Silver Banshee majorly updated
The Mugen Multiverse is proud to announce a full game centered around Superman. Find out more by clicking the project logo
One of the most anticipated character projects has now been released by Zox, in the forum of Spider-Woman. The preview image will take you to the topic
ELECTRO showed off a full game project for Punisher with a Demo for you to give him feedback on to improve the game as he works on it
Vote now for your favorite sprite edit that celebrates MMV's Birthday
mazemerald has given the MMV community a bunch of MvC edited stages
Two characters edited into Dr. Manhattan and Wu Ao Shi are now in your Mugen thanks to carpa5 found here:
Dr. Manhattan and Iron Fist Wu Ao Shi edits by carpa5 released
A major thank you goes out to ragnarok_333 for his release of Yuna and Tidus as part of our MMV Birthday celebration
RobiWanKenObi showed off some very cool stuff regarding his Blink project you can discuss at:
Blink video preview by RobiWanKenObi
The Man of Steel has never looked so good thanks to MDS GEIST who just released a seriously cool edit of Superman new 52. Check the video before going to:
MDS GEIST releases an all-new Superman 52 edit
In a super surprise release, FlavioCamarao gave the MMV community the Headless Horseman character in release
More great OpenBOR news courtesy of rafhot at:
Video preview of X-Men 1980 OpenBOR by rafhot
Thanks primary to our new Admin, Doom, we have completely
revamped our OpenBOR forum section.
As part of that, we also have some brand new OpenBOR Demos you can play in The Question by Doom and Superheroes by Goresickness. Both can be found when you click their representative picture.
Super-surprise video + WIP reveal for you in the forum of Exodus by Arkady, who is a passion project of his. Find out more about all of this here:
WIP: Exodus by Arkady w/video preview

The MMV Birthday event had a bunch of character releases today. First was CVS releasing Zero. Then skhsato123 released betas of Space Ghost, Ares, and Nebula. Finally, odin123 updated Batwoman. Each image will take you to their respective topic. Thank you to all of the people involving these releases.
A long time project that began as custom hand-drawn sprites by cravd has come to fruition with the help of many people here at MMV. After watching the video, find out more at:
She Hulk released!

FlavioCamarao really ruled this day of our birthday event with the release of Alexia Ashford from Resident Evil, a Plants vs. Zombie stage, and Dr. Robotnik. Clicking any of their images will help you find the download and discussion topic
On day 7 of our Birthday Event, a long-time MMV community favorite full game project had it's demo get a major updated release thanks to our friend Fabry Taz. The image above is hyperlinked to the topic
logansam has revealed a very cool new project of his in War Machine. Check the video, then discuss it here:
WIP Reveal: War Machine w/video preview by logansam
Thank you to chuchoryu for celebrating the MMV community with the release of numerous characters: Kazumi Mishima, Samus Aran (2 versions, Zero Suit, Powersuit) and 3 Metroid-related monsters. Clicking any of the images above will take you to their download and release topic to discuss
The Acolytes, an X-Men villain team is now in your Mugen in bonus character form thanks to Arkady. Watch the video, then find out more at:
Acolytes Bonus Match by Arkady released
We have an all-new way to interact in our community thanks to our new admin, Doom. There are numerous games to play in the MMV Community Arcade and we will organize various things with it.
The 2016 MMV Birthday event kicks off in style with an extremely cool gift courtesy of logansam in:
Agent Venom by logansam released
RAHLONNIR is back and has vastly updated Punisher. Click the preview above for download and information
Watch the latest video from Fabry Taz on his MK full game project he showed off for the MMV Birthday here:
Fabry Taz shows a new video preview of MK Legacy Full game

Here are some of our other character releases as part of our event that you can find out more about when clicking their image. Jax Briggs by CARNAGE777 and fede de 10, Hulk Mix Edit by ldpp, Iron Fist updated by fede de 10 and ldpp, Black Canary beta by fede de 10, Symbiote Spider-Man updated by yunnin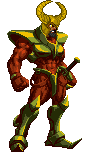 The characters listed above had some cool WIP news for you as part of our birthday event: Heimdall by Arkady, Space Ghost by skhsato123, Abyss by Predator, Groot by regisc, Red Hood & Winter Soldier by Shadow Lord
A sprite contest has been organized as part of our 4th Birthday celebration with a theme to enter of birthdays or parties. To submit your entry or check out those already submitted, click the icon
Other announcements/content
Doom named MMV AdminMMV Avatars pack released by thatbloke78Daphne Blake by Beanfan updatedComic Palette pack by WARMAPortrait Pack by Tsuyoi releasedmazemerald releases a Final Fight stage packSmartMosquito releases Port Pack for MUGEN Multiverse screenpack by Duracelleurbuanbuan shows off some very cool Marvel Mugen projects for the MMV BirthdayMatreroG releases Return to Akkaba stageMatreroG releases Genosha Under Apocalypse stageMatreroG releases Apocalypse Chamber stageFlavioCamarao shows off a bunch of his Mugen projectsWIP Reveal: Batman Arkham Knight by alejandro iaccarinoCrime Syndicate Mugen project news from carpa5Spider-Woman named MMV's Favorite WIP for April 2016Video preview of Star Sapphire and Kilowog by skhsato123Cenobite 53 releases a dozen stagespseudoingles releases early beta versions of Parallax, Kyle Rayner, and KilowogWIP Reveal: Punisher by ZoxStreet Sharks WIP w/video by alejandro iaccarinoFinal stage released by KazuyamishimaDr. Manhattan updatedTarzan updated