MMV is celebrating it's 7th birthday regarding the creation of this forum community and we will be giving you all of the gifts. This topic will keep you up to date on everything that happens.
So please give your birthday wishes and anything else you would like to discuss in reply to this topic

~=~=~=~=~=~=~=~=~
Kyoman has joined in releasing a couple stages Asgard Throne Room and Morlocks Sewer. Click their images above to download...
Shanri and BWWD show off another project, this time Brainiac from DC Comics WIP. Click the image above to find out more..
Chuchoryu has shown off another one of his projects, this time Chae Lim KOF MI.
KOF MI in CvS Chae Lim preview
This long-term project is finally shown in video format for you all as a gift courtesy of:
volzzilla & shanri present the video preview of Domino
The long wait for Batman to get one his iconic villains into Mugen is almost over thanks to skhsato123. Discuss the project at:
Ras Al Ghul WIP Reveal w/ video preview
Varia31 has returned for yet another cool release he has made for us during MMV's Birthday. Watch the video, then talk about everything here:
Diddy Kong (BETA) by Varia31 Released
A long time full game project by Nexus Games is now available to the MMV Community. Find the download and discussion at this link:
Sega vs. Capcom Full Game Released by Nexus Games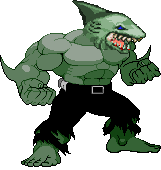 Demunlawin has released SFV Karin and here are a pair of project updates from chuchoryu and skhsato123 respectively in
SFV Karin Release
and
Ace video preview
and
King Shark WIP Reveal
skhsato123 has released another character for you, this time on the Marvel side in Black Bolt from the Inhumans: Watch this video, then talk about the release here:
Marvel's Inhumans Black Bolt RELEASE
Thank you to Chuchoryu for showing off the new roster of Soul Calibur in this video. To find out more, follow this link:
Soul Calibur roster update video
Check out these really cool stages from bam77. One has a Thanos/Black Order theme, the other is referencing Star Wars. Click the corresponding image to find whichever topic for download & discussion
Here is a really cool OpenBOR project with the theme of Batman Vs. TMNT thanks to Bwwd and shanri you can find out more on
Get ready for one of the biggest releases of 2019 in Iron Fist by Blade. Very good conversion from UMvC3 into a Mugen counterpart that we know you'll love. Download and talk about the char when clicking:
Ironfist UMVC3 by Blade RELEASED!
Check out this very cool WIP Reveal of Gamora by Blade for the Marvel Vs Capcom Plus project
An all-new edit of Kage from SFV is now available courtesy of LESSARD that you can discuss and download at:
Custom SFV KAGE by LESSARD released
One of MMV's long-time favorite projects is now seen in video format where you can discuss what is to come here:
Video Preview of The Question WIP by Doom & LESSARD
Thanks to thatguy for a couple edits. Amazo and Lara Croft. Click the pictures above to see their threads..
Here is a teaser video of Wild Dog from DC's Arrowverse thanks to carpa5 that can be discussed further here:
Video Preview of Wild Dog
Help MMV decide its next forum WIP between Winter Soldier or Firefly in the topic that hyperlinks out of this picture
Check out this very cool Bloody Roar Demo that chuchoryu decided to share as part of MMV's birthday at:
Mugen Bloody Roar 2D Edition: DEMO #1
Everyones favorite Teen Titan is now much cooler after this updated release by chuchoryu that you can find here:
MvC Raven DC Comics Upgrade
CvS Kage/Shadow Ryu got a welcome update courtesy of chuchoryu. Watch the video, then follow this link for the download & discussion:
CvS Kage/Shadow Ryu upgrade
A special 2 in 1 entry where you can see Iron Fist by Blade in video action that also WIP Reveals Cassandra Cain Batgirl by laspacho and thatguy. You can discuss either one at the following links:
Batgirl (Cassandra Cain) WIP by Laspacho and thatguy
or
New video of Ironfist by Blade
Halo just got a really cool representative in your roster thanks to chuchoryu and his release of:
CvS Arbiter/Inquisidor Early Beta
One of MMV's newest members in EX WILDSHARK shared a pair of edits of Iron Man and Captain Marvel that added some MK functionality and fatalities to them. Find them when clicking their animation
Your Injustice roster just got alot better courtesy of skhsato123 and his release of Enchantress. Watch the video, then talk about her at:
Enchantress (A.K.A June Moon ) New Earth -Injustice- version
Another cool Avenger project, Black Knight, is revealed thanks to Shanri and BWWD. Please click the image above for details.
Chuchoryu and Nexus Games have showed off a progress on Tekken vs Soul Calibur Full Game Demo. For details, click this link:
Preview video of Tekken vs Soul Calibur
A long time project here is getting a video preview for you to see courtesy of borg117, Angelus_Silverhead, volzzilla, and Mistah Jorge. Watch it now, then talk about the project at:
Preview video of Phoenix Cyclops

Thank you to Zadkiel Mugen Zone for his edit of Lynn Baker ; thatguy for doing some fixes on chuchoryu's Foot Soldier, and Madgear Gang Sidescrolling bonus stage by Skiff ; Andywho for updating Bimmy and James
Here is a massive Mugen release courtesy of bam77 who has brought us Nuclear-Man from the Superman series. Watch the video, then talk about the character and find the download here:
Nuclear-Man by bam77 released for MMV's Birthday
alejandro iaccarino has returned to show off a video of a very cool project of his that you can discuss further at:
Video Preview of Slammu from Street Sharks by alejandro iaccarino
brucewayne74 was kind enough to show off another video of his Lupin the 3rd project as part of our b-day that you can discuss at:
Latest video of Lupin by brucewayne74 for MMV's Birthday
Check out this very cool all-new project of Chemo by Bwwd and shanri by clicking that gif
shanri gave us this amazing stage that also included a WIP teaser for Rocket Raccoon. Watch it here, then thank him and discuss it all at:
MvC3 Ghouls N Ghosts Stage release w/ video teaser of Rocket Raccoon

An opening gift for you is bug fixing to Plastic Man and Cir-El courtesy of thatguy and Mammalman's update to The Mask. You will find the DL link and discussion topic on each depending on which you click
Blake Belladonna and Weiss Schnee are released by
@k6666orochi
. You can get them both above
Another event prelude gift is here with the:
Video preview & WIP Update of Hybrid by Gabriel Hods
This prelude to the event gift is some fixes to Captain Cold by skhsato123 thanks to thatguy
Other News
NightDevil's Sprite Comics Forum Section
demunlawin's gameplay fixes on Darth Vader
Tekken Vs. Soul Calibur Full Game news
New Forum Section - Mugen Author Compilations