It's our birthday, but we're giving you all of the presents. Click on the banner above to follow everything that happens during our 2nd Birthday Blowout
On the final day of our event, we give you one of our biggest releases. cravd worked hard on those custom sprites, and Arkady gave Abomination a great smart palette and brought it all to life. To find the download and more information on the character, go to:
Abomination by cravd and Arkady released
To compliment the big release of the finale, volzzilla has released Super Portrait Pack #5 which contains 144 pcx and png files. To find it, click the preview
You can now get the all-new Nick Fury v2.0 who has been released by Avalon, Chimoru, set555, and volzzilla. Click on the image for the download location, a video preview, and any more information about the character
The Sorcerer Supreme has been shown off like never before in this preview focusing on numerous spells and palettes. After you see it all, you can talk about it here:
Dr. Strange Video Preview 5/24
volzzilla has released 4 different stages he has edited into Marvel themes (X-Mansion Library, Hydra Secret Missile Base, A.I.M Cloning Factory, SWORD Outpost) that are all now available, of which you can find more about everything when clicking the preview image
Watch this all-new video of Forge by Arkady in action featuring a look at all the special moves and the customized palettes, then talk about it at:
Forge by Arkady Preview video 5/23
MMV would like to thank Varia31 for getting involved with our event to release his Samus Aran v3.0. She has new moves, more sprites and sounds, and general gameplay refinement. Click on her new idle animation to find the download and more info
One of the best characters in awhile is now available for download thanks to Chimoru, Avalon, and Arkady. Get a preview from the video and then find her download and more information here:
Jubilee by Chimoru, Avalon, and Arkady released


Day 13 of our event has provided an opportunity for multiple first time creators. Anarky and pseudoingles have released their very first character as part of our MMV B-day event in the beta of Ted Kord, the Blue Beetle. Then there is Cristianomelo who has created and released one of the few DC female villians for Mugen. Congratulations to all 3 of them. When clicking on either respective images, you'll find out more
Here are a couple edited releases that we think you'll like alot after much work by a ton of people. Azazel, villain of the X-Men and Ursa of Superman infamy are now available in your Mugen. Watch the video and then you can find the DL and more information from:
Edited Mugen Releases: Azazel (X-Men) & Ursa (Superman)
Avalon released a pretty cool Nick Fury a few months back. Well, Chimoru, set555, and volzzilla have been updating him recently and we think you'll like the result. New stuff can be seen in the video and then you can talk about it all at:
Video Preview of MMV Nick Fury 2.0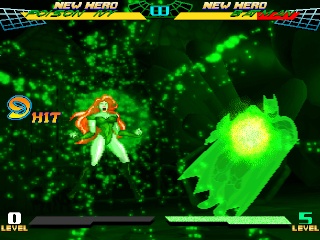 MMV was graced with an absolute surprise release yesterday by a brand-new creator, Fron84 who was also gracious enough to allow the character's involvement in our birthday event. Thank you Fron for that, and thank you for a great Poison Ivy. We also had another release of Decapre by mazemerald who updated Pullo's version. You can find whichever link you like when you click on the respective picture
cravd and Arkady have been putting in some amazing work on Abomination, as you can see in this video. Check it out and then discuss the WIP at:
Abomination Video Preview
We love it when our community members get more involved in MMV happenings, and Krishjan1980 provided a perfect example of that when he helped us out by including a video preview of his WIP Johnny Blaze for our event. Watch the video, and then talk about it here:
Video Preview of Ghost Rider by Krishjan1980
This is an incredible update or remix of Zatanna you have to check out. Chimoru did some great work on the original version by Jhonny-DC to create something all-new that we know you'll enjoy. After watching the video, you can find out more from:
Zatanna remix by Chimoru and Jhonny-DC released
volzzilla took inspiration from zombiebrocks comic edit shop to release a few of his own edits of Photon, Ironfist, and Match. Original credit to the original creators, and appreciation for those that helped, along with more information can be found when clicking on the image
After some amazing editing by Avalon onto Chimoru's Jubilee project, we're happy to now show off her current progress in this video we hoped you liked. Talk about the project more at:
Jubilee re-make w/ Video Preview
MMV is very thankful for 21 not only for becoming a major contributor to our community, but also for being the star on Day 8. The biggest release by far was Logan, AKA Wolverine. He took a private beta made by angeljerry and cleaned up the code, while adding some new things. Next, he released a few edits of his: Ryu, Akira, Steve Fox. Lastly, he is taking the lead in a full game project section that will focus on Sega Vs. Capcom. You can find more info on any of those things when you click on their respective picture. And if you'd like a video preview of the full game project as well as to know about the intended roster, go here:
Sega Vs. Capcom Video Preview and Roster info
Day 7 of our event provided a wide range of content for you today. Up first was a very cool edit of Human Torch done by Avalon. Then we had the release of Lobo by animaraz. Next came a beta of Goku provided by Ax. And bam77 gave us some major news on his WIP of Surtur. Any of those can be found out more about when clicking their images above. Finally, we'd like to thank galactus and crosspotts for their WIP reveals that you can see when you click the hyperlinks:
WIP Reveal: Mysterio by galactus and crosspotts
and
WIP Reveal: Rhino by galactus and crosspotts
We would like to thank Cristianomelo for showing off a preview video for his Emerald Empress project. Watch it here, then talk about it all at:
Video Preview of Emerald Empress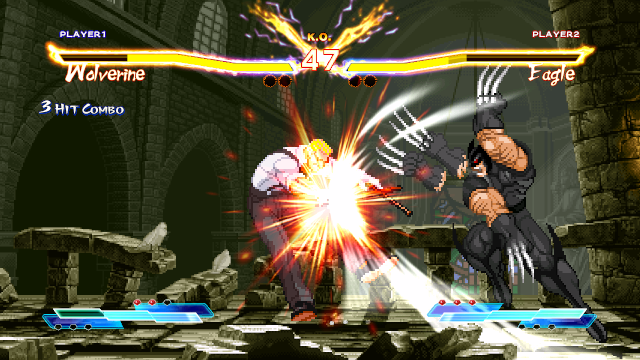 Couple of cool Mugen announcements today. XXDreamBrotherXX decided to show off his custom Wolverine WIP that will be inspired with Infinite style gameplay. Then the announcement of a full game project based off of the TV show Family Guy by Lows 9.0. Find out more with you click the corresponding picture
Our Birthday celebration has garnered you all some very cool and interesting new characters recently. First, thank you to flammableking and set555 for creating Krumm from Ahh! Real Monsters. Then chuchoryu for the creation of Elysium. We also appreciate O Ilusionista getting involved in our event with his release of Death from Demon Hunter Legend 2 and Operation Ragnagard Rain Temple stage. Finally, thank you to RobiWanKenObi and JARRO77 for updating Apocalypse. You will find the download links and any other information when clicking their respective images.
Watch this amazing video preview of Hawkeye featuring the palettes and all specials moves, and then talk about it all at:
Video Preview of Hawkeye by Nicotinefist and Arkady
The Admin team has 2 different gifts for you on day 4 of the event. First and foremost is Arkady's updating of Banshee into a v2.0. Then there was a great WIP reveal of Azrael by Red Hood. You will find out more when clicking their respective images.
Very heavy chuchoryu day today. First he released 6 different characters which included 2 Deathstrokes. Others are: Combot, Jack and P-Jack (all from Tekken), updates to Ryu and Soul Calibur, and a beta of Raven from the Teen Titans. Then, he is letting you all help him pick his next comic WIP. For more on any of that, click the images above. Finally, he's opening up an all-new full game project that can be seen here:
Ninja Project Full Game Section by Chuchoryu
Thank you to Topper who released a major update to Jean Grey today. He had a good amount of help from Arkady to make that happen. Clicking on the image will take you to the download page and topic to discuss the release
Congratulations to Logansam for releasing his very first character, Superman. He based the design off of his Man of Steel movie appearance. When you click on the image above, you will find out more, as well as the download link
Check out this video preview of Banshee 2.0 and then find out more information at:
Banshee Remake by Arkady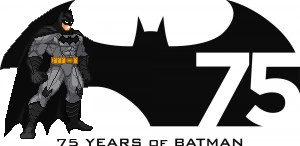 Red Hood has joined the MMV family in a big way today. Not only is he helping us celebrate our 2nd Birthday, but he gave it a dual purpose by also celebrating 75 years of Batman this day. To do that, he has released
New 52 Batman
,
Destroy the Batomobile Bonus Game
, and his
James Gordon Alpha/Beta
. Clicking on any of the images above or those hyperlinks will help you find the download link and more information. And you can congratulate him becoming a bigger part of our community in this topic:
Red Hood becomes MMV Admin
We would like to thank BaganSmashBros for showing off an awesome video of his Ridley WIP from Metroid fame:
WIP Preview: Ridley by BaganSmashBros